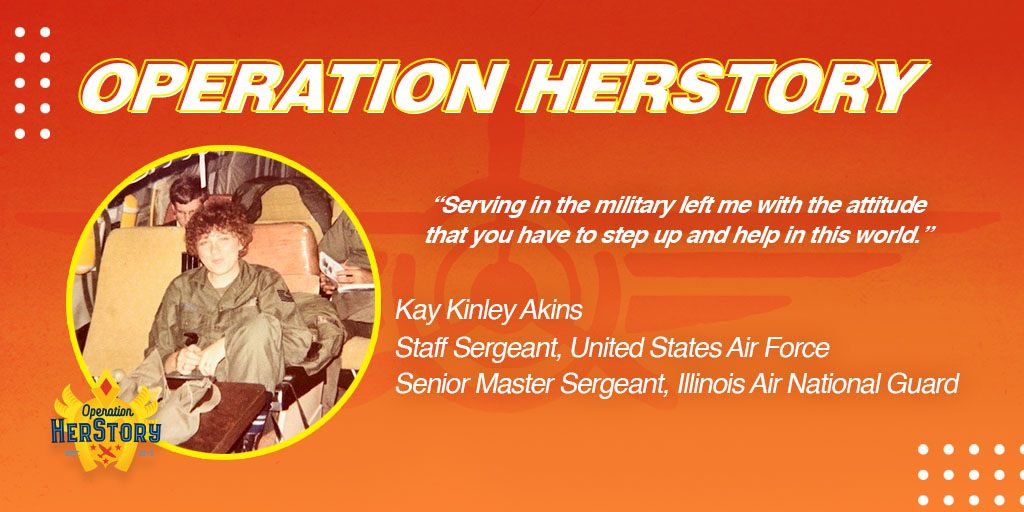 For Women's History Month, we will be featuring some of the brave women whose stories will be shared during our Women's History Month Panel. Kay Kinley Akins was a Staff Sergeant in the United States Air Force, and a Senior Master Sergeant in the Illinois Air National Guard.
On her service: "After four years, I got out of active duty Air Force as an E5. I was out for a little over a year and really missed the military so I enlisted in the Illinois Air National Guard and retired as an E8.
"I was in Supply both active and Guard but retired as the First Sergeant of my Supply Unit. I was stationed in San Antonio, Texas twice and also served in Taiwan at Shu Linkou Air Station while on active duty. My Guard time was spent at the National Guard base at O'Hare Airport."
On why she joined: "The Vietnam war was going on and I had a cousin severely injured after stepping on a land mine. Back then recruiters came into the high school cafeteria during lunch and after talking to the Air Force recruiter I felt the pull to enlist.
"When I enlisted they actually took modeling poses of the female recruits - at least the Air Force did! As an enlisted airman I did not get to pick my career path - A thru H were chosen to be medics, I thru M - I was going to supply school! Of course back then only nurses were sent to Vietnam. We were not trained to shoot a gun or anything else and we always wore a skirt - with full girdle, nylons and slip! Thank God, times have changed! Thanks to Ruth Bader Ginsburg women can now also be a soldier and a mom. When I went in you had to choose one or the other."
On her memorable experiences: "Seeing the world and making really good friends. I was activated in the Guard for Desert Shield and served in Spain prior to Desert Storm.
"As a female in uniform, I always felt I had to do my best. I was representing the Air Force but I was also woman in the Air Force. I am extremely happy that I was able to retire with benefits as a Veteran. I think serving also left me with the attitude that you have to step up and help in this world."
On Operation HerStory: "Everything was awesome! I feel extremely lucky to have met Ginny and had the opportunity to go. I met so many truly awesome women on the trip and we all shared a bond from the minute we met each other."