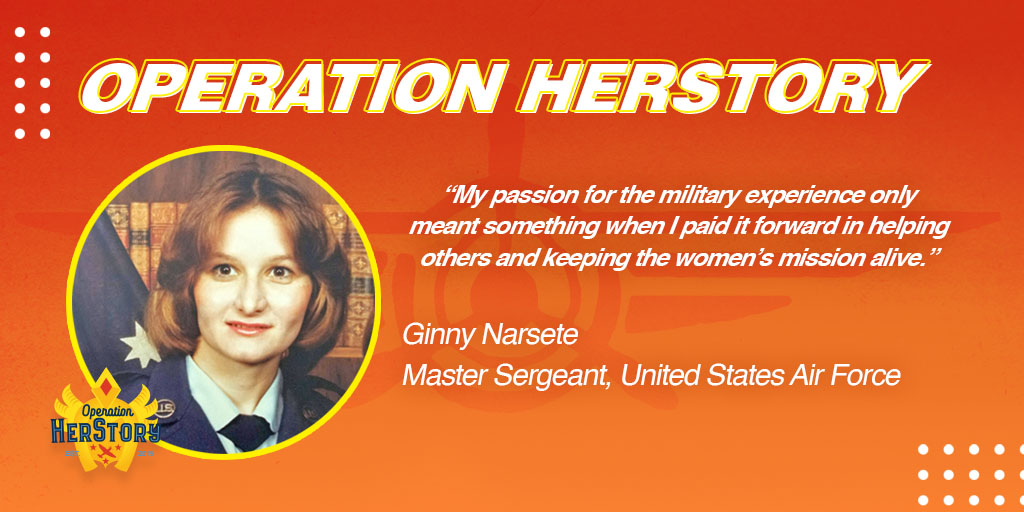 For Women's History Month, we will be featuring some of the brave women whose stories will be shared during our Women's History Month Panel. Ginny Narsete was a Master Sergeant in the United States Air Force. She served active duty 1973 to 1978 and in the reserve 1977 to 2003. During her time in the Air Force, she was stationed at England Air Force Base in Louisiana, Langley Air Force Base in Virginia, and with the O'Hare Reserve Unit here in Illinois. She is also a founder of Operation HerStory, and will be the guest speaker at our panel.
On why she joined: "Education, GI Bill, and career choices, as well as to be part of History and support our troops in Vietnam"
On her service and how her gender impacted her duties: "I served my active duty time as administrative assistant. I then changed to Public Affairs when I entered the Air Force Reserve.
"Women were not given jobs beyond desk positions, typing, or medical. We were also held back from commanding, especially any type of flying unit, getting promotions like our brothers."
On her memorable experiences: "Traveling as a photojournalist, writing stories, and working alongside my friends. I also traveled throughout South America, Europe, Korea and Japan."
On building relationships with other women in service, supporting one another, and staying in touch after serving: "Building relationships with other women was important. It's all we had. We supported each other by doing things together like hobbies, church and naturally bonding.
"Sexual harassment was rampant and no where to go for help, so we pretty much kept to ourselves. The women I served with were very protective of each other. Many of us still keep in touch. My boss was very protective, in fact too protective, he was like a dad protecting his daughters."
On life after service: "After serving, it only got better. My passion for the military experience only meant something when I paid it forward in helping others and keeping the women mission alive. A perfect example is serving on boards, with the Pritzker Military Museum & Library, with the American Legion, and as the founder of Operation HerStory with several other women."
On her favorite memories from the Operation HerStory flight: "Bonding with other female veterans, sharing stories and now keeping in touch. Many of us are continuing to serve and mentor our younger troops. Mostly building relationships with Legion Riders in Naperville, younger female veterans and praising those who helped."
On joining other women veterans for the flight: "I loved it!!! Such great bonding and sharing stories!!"
On what she would like community members to know about her experience as a woman in the military: "Invite women veterans to tell their stories to your community organizations. Women who served were strong, built character and strength to defend our country. I'm proud we stuck with the military, served with pride, and broke the glass ceiling to fight for equality. Interestingly, the men I served with supported our role.
"Most importantly, make those women who served visible so our stories will be told. The women in the military fought for many firsts. It hasn't changed. Operation HerStory fought hard to even get the first all women's flight. We found the women through grassroots outreach and raised all the money for the flight. Also Col. Jennifer Pritzker, the VFW, the American Legion, the McCormick Foundation and the Daughters of the American Revolution believed in us."
On how the flight came about: "It started as an assignment in DAR to work with Honor Flight. After much research, it was clear women on the flights were non-existent except for 2 or 3 women a year. So I began researching why women on these flights were not invited. Then the work began! Little effort was made to reach out before, but then Operation HerStory was born to create an all female flight."
On what "We served together and we were visible, together" means to her: "We found each other through a lot of ground operations and promised to make ourselves visible to all Americans."
On how the flight came together and the support it received: "Flight came together with a lot of organizations who wanted to recognize the women who served. The community and other organizations like the Naperville American Legion, the VFW and the DAR all supported us. The Pritzker Military Museum & Library donated a generous grant and their library to hold meetings and press events."
"Honor Flight came in 9 months after Operation HerStory was founded. OHS located the 93 women veterans and funds to pay for the trip. Honor Flight arranged the transportation and cheering crowds. The community, meaning the whole country, praised the women heroes."
On what's next: "To become more visible and hopefully we will be part of more parades, receive speaker support, and tell our stories at the Pritzker Military Museum & Library oral history program. Then add in social events, golf, lunches, museums and possibly more trips! Overall we found each other. Time to find more!"