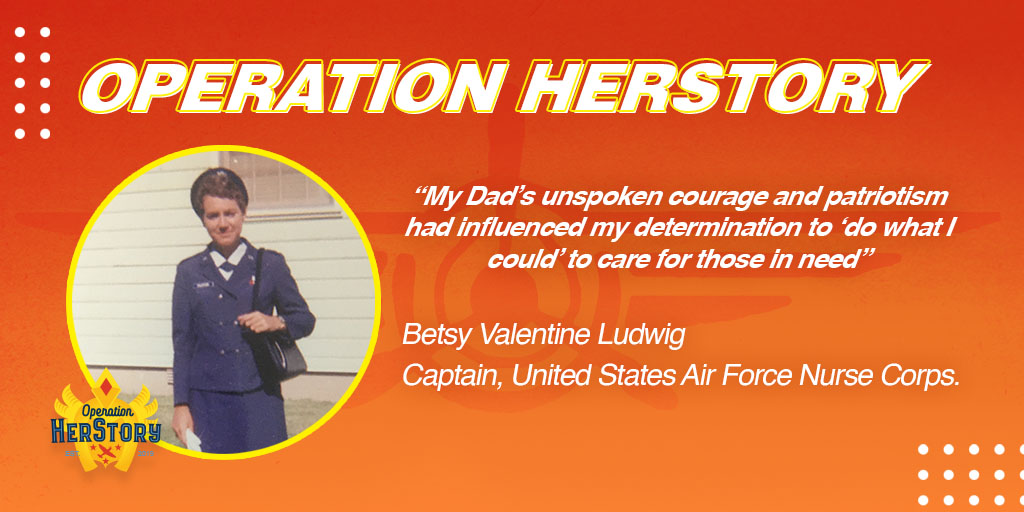 For Women's History Month, we will be featuring some of the brave women whose stories will be shared during our Women's History Month Panel. Betsy Valentine Ludwig was a Captain in the United States Air Force Nurse Corps. She served in the obstetrical unit at Malmstorm Air Force Base in Great Falls, MT, from 1970 to 1971, and with the surgical and air-evacuation units at Clark Air Base in the Phillippine Islands from 1971 to 1972.
On why she joined: "My Dad was in WWII and I knew that if I was a guy (during this time of the Vietnam conflict), I might have been drafted. So, by me offering my assistance as a nurse, I felt that I was contributing to my country. My Dad's unspoken courage and patriotism had influenced my determination to 'do what I could' to care for those in need, medically...whether it be physical or emotional.
"I would like members of our community to know that the military is not only made up of those who have to pick up arms to support a cause. There are numerous needs that are ever-present, in order to preserve and defend our freedoms."
On her memorable experiences: "Being away from home was difficult, especially around the holidays. But, we were ALL away from home! And, somehow, each one of us (patients, staff, and our fellow servicemen and women) became 'family' to one another!
"I met my husband-to-be while stationed overseas. When I was discharged from the Air Force, several of my military co-workers/staff flew to New York to be at my wedding. I was indeed, so proud to introduce them to my family and friends at my wedding."
On Operation HerStory: "I was astounded that there were SO MANY PEOPLE who wanted to show appreciation and acknowledgment to women who served. Whether we served for two years or made a career in the military, we were all so very overwhelmed at the outpouring of love and attention that was showered upon us, on our special day, Oct. 6, 2021. Being greeted by hundreds of people at both airports literally took my breath away. Perhaps no one could tell, but my mask was (thankfully) absorbing the moisture that was coming from my eyes. Tears of joy...tears of deep pride.
"My 'guardian' Kathy was absolutely wonderful. She was so attentive and sincere! By the end of the day, I felt like I had gained a 'sister.' If I were to say one thing I regret that day, it would be that I didn't make time to talk to other women, and ask them about their story.'"