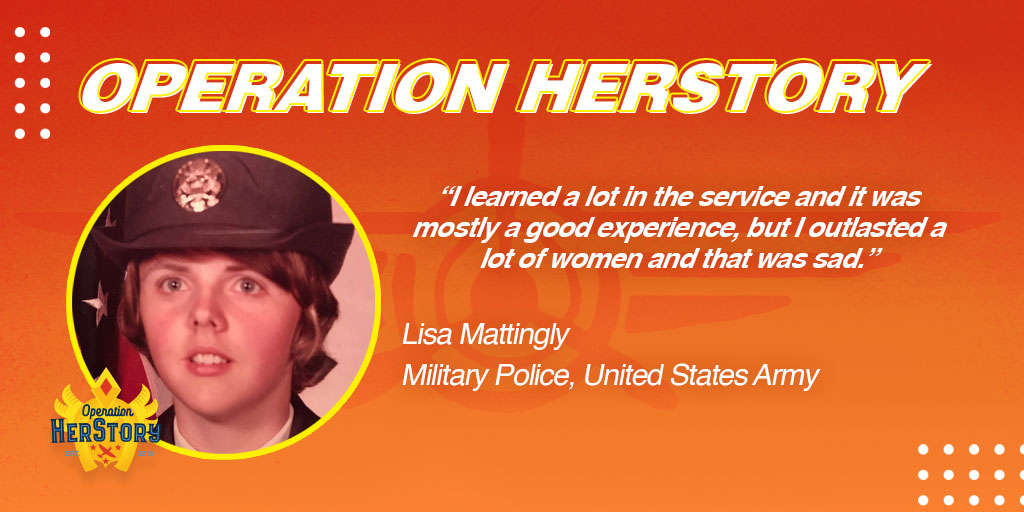 For Women's History Month, we will be featuring some of the brave women whose stories will be shared during our Women's History Month Panel. Lisa Mattingly was a Military Police in the United States Army. She served from November 1974 to October 1977.
On her service: "I did regular police work and took care of a lot of misbehaving soldiers. I participated in reforger every year doing maneuver damage and led a lot of convoys and directed a lot of traffic the tanks would get real close trying to scare you. I learned a lot in the service and it was mostly a good experience, but I outlasted a lot of women and that was sad.
Following her time in the Army: "I was a strong woman back then, but when I left the Army it was hard. At that time it was different; the military was not respected and had some difficult times. When I got out, I still served through working for USPS, but the USPS also has problems and I outlasted a lot of women there, too.
"I became very depressed, and I feel women still have a hard time. The "good old boys" can make it very difficult."
On Operation HerStory: "Operation HerStory was the most wonderful experience in my life; just the whole experience of being cared for and cared about."
On how her service impacts her life today: "Today I am retired from the USPS. Thanks to the VA and the help I have gotten there, I do okay with my depression. Times are not all good, but at least they are not all bad."
On what she would like the community to know about her experience as a woman in the military: "Community goes in waves. Sometimes the military is respected and then not. In World War II, most everyone served that was a community
"Vets that don't have that comunity feel alone and that they don't fit in. The VA cannot do it all, community is what brings health to your life. Bring back community."