Published: Wednesday, January 09, 2019 01:03 PM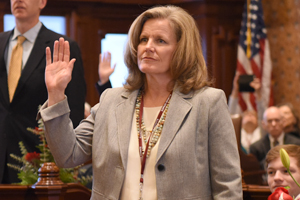 SPRINGFIELD – State Senator Laura Ellman (D-Naperville) was sworn in to the Illinois State Senate during the Senate inauguration today in Springfield.
"It's an honor to represent Illinois' 21st Senate District," Ellman said. "I'm looking forward to bringing new representation to the district and a fresh perspective to Springfield."
"In the Senate, I will work to ensure the state pays it fair share for our schools so we can end the overreliance on property taxes, and I will fight for real reforms like enacting term limits for legislative leaders, ending gerrymandering and limiting the power of lobbyists and corporations," Ellman said.
As an assessor at Argonne National Laboratory, Ellman knows what it takes to solve complex problems. She has more than 25 years of experience working in manufacturing and engineering and dealing with government regulations and policies.
"Too often, our leaders point fingers instead of solve problems," Ellman said. "It's time to stop passing blame and start crafting real solutions to solve our state's fiscal crisis. We can't afford to keep losing residents. It's time to get our fiscal house in order and attract new residents to our great state."
Ellman resides in Naperville with her husband Pete, a musician and local business owner, and her children, Lizzie and Barrett.
Constituents can contact Ellman by visiting www.SenatorLauraEllman.com or by stopping by her district office at 552 S. Washington St., Suite 104, Naperville.
Senate District 21 is located in DuPage and Will counties and includes all or parts of Carol Stream, Lisle, Naperville, Warrenville, West Chicago, Wheaton, Winfield and Woodridge.