Published: Friday, January 21, 2022 04:14 PM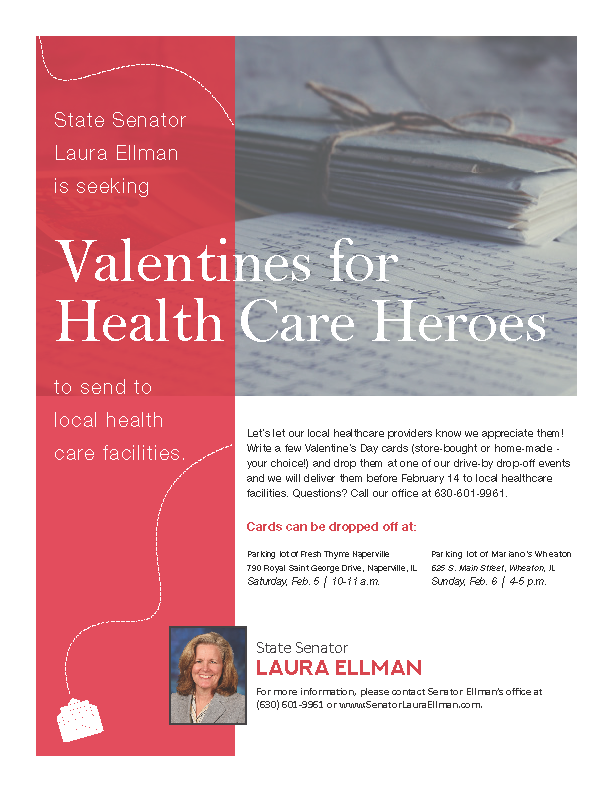 NAPERVILLE – To show appreciation for all of their hard work, especially throughout the COVID-19 pandemic, State Senator Laura Ellman (D-Naperville) is collecting Valentine's Day cards to be distributed to health care workers in the community.
"Over the last two years, our health care workers have gone above and beyond the call of duty to protect our community," Ellman said. "This is a great opportunity for us to offer care and support to our neighbors who have cared for and supported us, and who have been carrying the weight of this pandemic on their backs."
Ellman is encouraging churches, schools and community members of all ages across the 21st District to write Valentine's Day cards, which can be dropped off at drive-by drop-off events on Feb. 5 and 6. Once all cards have been collected, they will be delivered to various local health care facilities.
Cards can be dropped off at the following locations:
Parking lot of Fresh Thyme Naperville
790 Royal Saint George Drive, Naperville
Saturday, Feb. 5, 10-11 a.m.
Parking lot of Mariano's Wheaton
625 S. Main Street, Wheaton
Sunday, Feb. 6, 4-5 p.m.
Ellman's office can be reached at 630-601-9961 with questions.